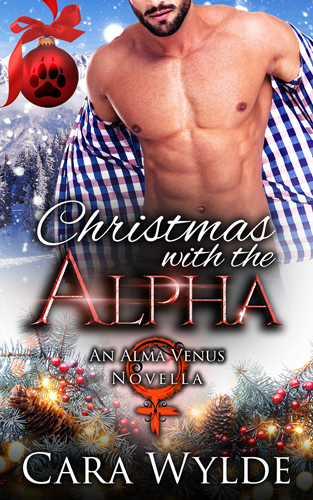 Christmas with the Alpha (An Alma Venus Novella)
Ten years of marriage and three wolf pups later, Avelyn and Max are ready for a vacation. Their dream is to get some peace and quiet, away from the Schloss and the entire Clan Blackmane. Just the two of them. Alone. Even a couple of hours would be more than enough.
When their sons, Nikolas, Lucas, and Jacob present them with their Christmas gift, the two overworked parents can't believe their eyes: it's an official permission slip to spend Christmas alone, somewhere romantic. They'd better take advantage of it before the kids change their mind!
Christmas with the Alpha is a short, sweet novella in the Alma Venus Shifter-Brides universe. The action takes place ten years after Sold to the Alpha. Intended for readers 18+.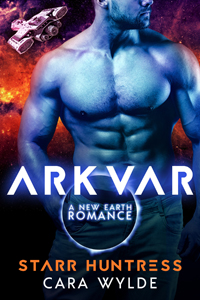 Arkvar (New Earth Flames, Book 1)
When curvy, sexy, and happily-single Alison Page went out for a nice Friday evening in town, the last thing she expected was to be kidnapped by aliens. Now, she's the only human on board of the spaceship Hesperia, and her only concern is… well, she has no clue, actually! Earth is gone. The only food available is blue. Oh, and the hot ship Captain, whose skin is just as blue as the food, is telling her crazy stories about how she's special and can manifest anything she wants. With the power of her mind. Yeah, right!

Captain Arkvar had one job: wipe planet Earth off the face of the galaxy and move on. He failed. Saving the feisty, intriguing Alison Page from certain death will probably cost him his career, but he doesn't care. She is his twin flame. And he's determined to win her heart. All he has to do is study the mating rituals of Terra, use them to woo Allie, and then claim her as his own. The perfect plan. Except…

As an Unxendi, Ark has no chance of understanding the culture and traditions of Allie's species. He'll find out the hard way, while giving Allie countless reasons to laugh her head off. At least, she's not depressed over the loss of her home anymore…

Arkvar is the first book in the New Earth Flames series. It is a full, standalone novel with a happily-ever-after (there is life after Earth!), and NO cliffhangers. One hundred percent intended for readers 18+.









Subscribe to Cara's newsletter and be the first to learn about upcoming books, special promotions, free reads, and awesome giveaways!